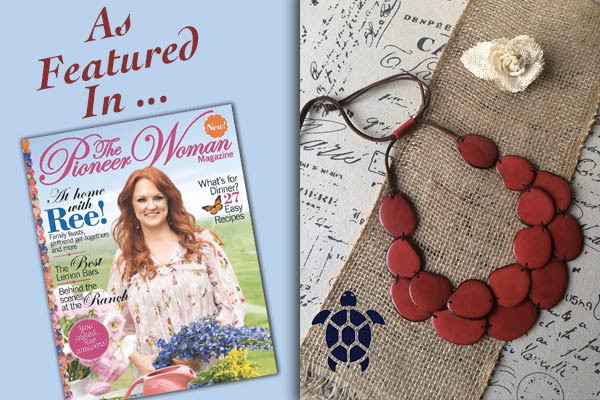 Tagua Nut Necklace Featured in The Pioneer Woman Magazine
Today we are happy to announce that our Galapagos Tagua Brand jewelry had the honor of being featured in "The Pioneer Woman Magazine" by Ree Drummond. They chose our beautiful Red Statement Tagua Nut Necklace as part of their piece on chunky necklaces and we couldn't be happier.
It all started in December, when I was contacted by the staff of the magazine, because they had fallen in love with our necklace. Once they received our samples, they told me, it was exactly what they were looking for and gave me the amazing news that my necklace would be highlighted in The Pioneer Woman Spring issue.
I can't help but feel humbled and honored by this amazing opportunity my online store has been given. I am so happy to share with the world these beautiful, fair trade, eco-friendly and handmade Tagua jewelry that comes from my beloved home country of Ecuador!
Handmade with love by women for women!
Click here to get your Red Tagua Necklace today.